Facility
Pro Finishing is known for its clean, controlled and efficient organization.
Our 7,000 square ft. facility operates 5 booths for all of your liquid and powder needs. We handle large and small parts, long and short runs, high volume, small quantity and prototype jobs.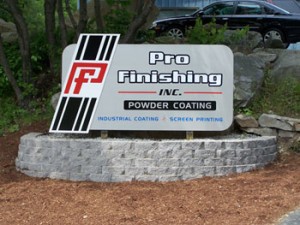 We also provide an iron phosphate tank system for the pretreatment of metals prior the finish application.
We have a separate screening area. In addition, we also have a dedicated area where the actual artwork and screens are produced.
When your product arrives, it is documented and then inspected for any pretreatment requirements (cleaning, masking, filling, sanding, etc.). After all prep work is completed, your product then moves onto our finishing and/or screening departments. After your specified finish is applied, it continues onto our quality control department for final inspection and packaging. In addition to visual inspection, jobs may also undergo inspection with instrumentation (such as testing with our gloss meters, mil thickness gauges, resistivity meter, etc.).
View directions to our facility